It is paid great attention to the issue of diagnostic services in «Dental Spa» clinic of Chisinau. Advanced methods of diagnostics and up-to-date diagnostic equipment are used at that stage.
Each patient of our clinic gets primary consultation with specialists who makes careful visual examination of his or her oral cavity. All obtained information is recorded in medical history of the patient during the first visit.
If it is necessary to get X-ray of one or several teeth this procedure can be carried out in our clinic. It is also possible to get panoramic X-ray of all teeth if required.
Our specialists make a programme of treatment after diagnostic maneuvers. If it is necessary the council of physicians can be summoned. It allows making precise diagnosis and set the adequate treatment.
X-ray examination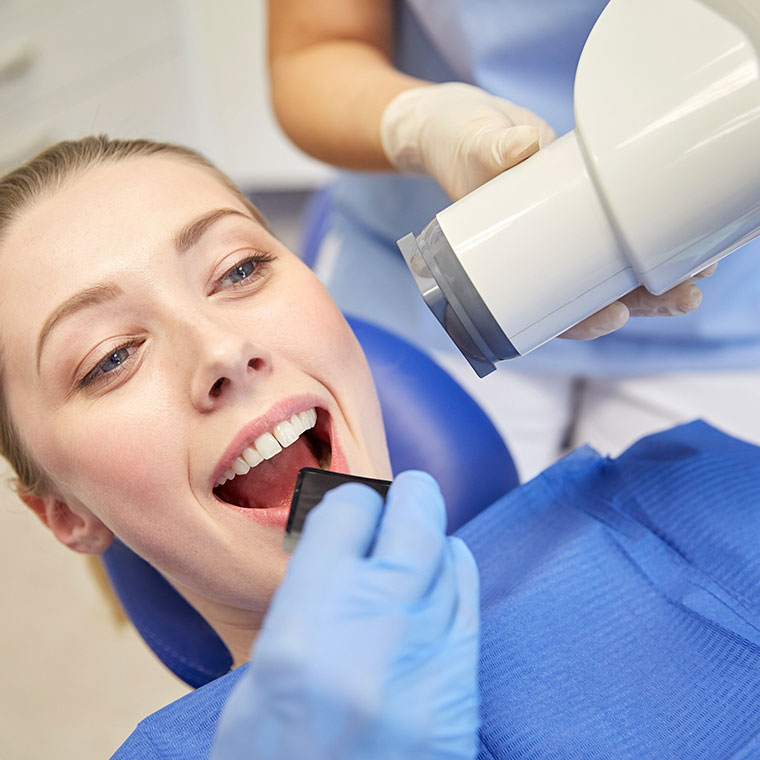 One of the types of diagnostics in «Dental Spa» clinic is spot-film radiography. This diagnostic procedure is used when it is impossible to make examination with the naked eye and the necessity in more detailed examination arises.
Radiography allows revealing the presence of such abnormal formations as cystic lesion or swelling. This procedure also allows detecting the damage level of nerve and tracing the efficiency of some types of therapy. X-ray gives the possibility to assess the level of health of teeth which are not erupted yet. In addition X-ray allows detecting position of a wisdom tooth and helps in many other situations.
In «Dental Spa» clinic up-to-date radiovisiography system is used which allows getting the high definition picture immediately. Thanks to it the doctor receives the image of one or several teeth of the patient on the screen of monitor in several seconds.
Irradiation level of modern X-ray machine is negligibly small. Besides that the patient is reliably protected during X-ray by special protective measures.
Panoramic X-ray
When the X-ray is not enough for obtaining full information on dental health, the necessity for a panoramic X-ray arises. Actually it is talked about X-ray of the whole oral cavity, which gives possibility to get one integrated image of both jaws and all teeth.
This type of diagnostics gives the possibility to see specific characters of jaws structure that is extremely important to examine before such procedure as implantation. The panoramic X-ray also allows assessing the system of tissues surrounding tooth and gives a number of other information needed for treatment.
The panoramic X-ray is obligatory in the treatment of complex forms of periodontal diseases. Such diagnostic procedure allows choosing the most optimal variants of bite correction and assessing effectiveness of appointed treatment for different diseases.
In «Dental Spa» clinic the modern multifunctional panoramic X-ray machine is used to obtain 2D pictures. The equipment meets the exacting safety requirements.